Brainstorm software
Brightstorming
Brightstorming is an easy to use web application, developed by HatRabbits. The application helps teams to quickly generate innovative ideas.
Beautiful design
Powerful thinking techniques
Inspiring examples
Time management
Energisers and icebreakers
No downloads or installations required
"Brightstorming instantly puts you in the creative fifth gear and this results in surprising, useful ideas. 'Another round?' my colleagues asked directly afterwards."

 

"I recently did a brainstorm session with the incredibly fun and effective app from Brightstorming.com as facilitator. It works smoothly and intuitively. Pleasant design, and lo and behold: I found unexpected useful ideas. Recommended!"

 

"Brightstorming is an efficient and pleasant way to organise your thoughts and gain new insights. Without needing a facilitator. Then you realise: everybody possesses the power to think innovatively!"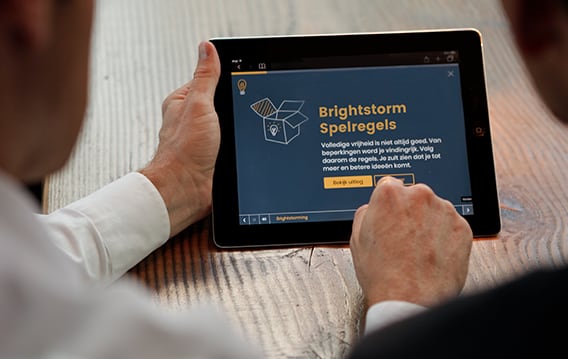 Structured creativity
Brightstorming not only generates the perfect brainstorm session, it also helps you to facilitate the meeting. Timers, energisers, clear examples and step-by-step guidelines make sure that teams can brainstorm with ease. The objective, digital facilitator makes brainstorming fun, efficient and productive.
During the development of Brightstorming, a lot of attention has been given to realising an intuitive design and optimal user experience. Brightstorming is so straightforward that anyone can generate a complete brainstorm program in the blink of an eye.
Quick and productive brainstorm sessions
Brightstorming can be used for various goals. For instance, the application is perfect for brainstorm sessions, problemsolving, strategy meetings and team consultations. Brightstorming can easily be combined with agile methods like Scrum, Design Thinking and Google Venture's Design Sprints.
Brightstorming runs in the cloud. No installations are required to use the software. The application is responsive and can be used on tablets, laptops and larger screens (for instance, in meeting rooms).
Let the users convince you