5 techniques to develop a creative name for your company, product or project
Being able to come up with a 'catchy' name is an extremely valuable skill for every professional. Whether you are leading a company, starting a new project, or launching a novel product or service. There will often be times when you need a creative name.

In this article, I will share 5 simple techniques that you can use to find an original name. You can use them individually or with a team. They are all easy to use and can be applied directly. And all you need is a pen and paper.
1. Personification
Turn your brand or product into a personality. Use the names of the founders, a nickname, a fictional character or a historical figure (like Tesla, named after the infamous inventor Nicola Tesla).
Examples: Ben & Jerry's, McDonald's, Johnnie Walker
2. Alliteration
Alliterative names are pleasant to the ear. Come up with a name that consists of two words that start with the same letter. Make sure to use the same number of letters. Keep it simple, easy to pronounce and rhythmic.
Examples: Dunkin' Donuts, BlackBerry, Coca-Cola
3. Statement

Create a two- or three-word statement about your product, service or proposition. Try to generate a list of short punchlines and see if you can turn these into a short brand name.
Examples: Best Buy, DieHard (batteries), No Sweat (deodorant)
4. Geography
Use your current location in the new name. You can also make use of locally famous subjects (e.g. Fuji is named after the highest mountain in Japan).
Examples: ICI Paris, New York Pizza, Cisco (from San Francisco)
5. Combination
An easy way to generate a new name is by combining two existing words. You can try to use 2 words that match your subject, or combine one of them with a random word.
Examples: Facebook, Snapchat, YouTube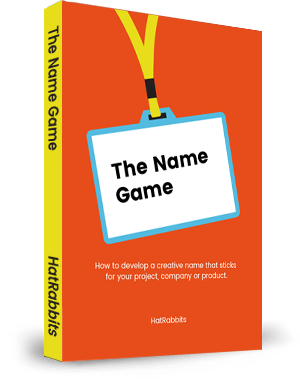 The Name Game
How to develop a creative name that sticks for your project, company or product
The tricks above are simplifications of the tricks described in our ebook 'The name game'. In this ebook, you'll find 25 exercises that will help you to generate the perfect name for your product, service or company.